Avalon Full-Service
Face and Body Center
430 Peninsula Avenue, Suite 8
San Mateo, CA 94401
650-344-5555
INFO@AVALONSKINCARE.com

Hours
Monday-Friday 8:30am—3pm
Saturdays By Appointment Only

Cancellation Policy
Please be advised that appointments cancelled within 48 hours of scheduled time will be billed in full.

MAP & DIRECTIONS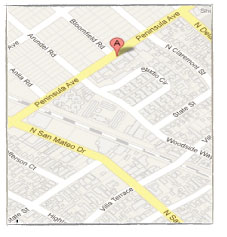 ABOUT US
AVALON SKIN CARE HAS BEEN OFFERING the most advanced skincare on the Peninsula since 1998. When I first decided to establish Avalon salon, we knew we wanted to focus on offering intense clinical skincare treatments in a private setting. Many of our clients are busy professionals who need an environment where they can relax and unwind, while enjoying the best skincare treatments in the Bay Area. Our goal is to give them that experience.
Over the years, we have attracted a wonderful clientele, and we are happy to say that many of our clients have also become our friends. Moreover, our clients frequently entrust their family members and friends to us, which has provided us with a robust referral business.
We are so grateful for your patronage and loyalty, and we look forward to meeting your future skincare needs.
Sincerely yours,
Gemma Roche
Gemma, BSN
Licensed Aesthetician,
Licensed Electrogist
Gemma Roche was born in Ireland and received advanced skincare and electrology diplomas through Browlyn Conroy, a CIDESCO-credited private school, and several other highly accredited institutes in Ireland.
In 1993, Gemma moved to California where she completed her certification as a licensed aesthetician, electrologist and aromatherapist. She has had advanced training in paramedical aesthetics, including chemical peels, acne, hyper-pigmentation and skin rejuvenation treatments. In 2011, she received a Bachelor of Science in Nursing from San Francisco State University. Gemma is dedicated to educating her clients and giving them the best in results-driven treatments.
650-344-5555