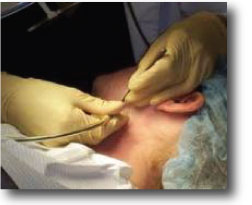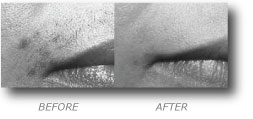 Electrolysis
Prices:
15 min $50
30 min $80 1 hr $160

Package of 10 sessions $1500
ELECTROLYSIS TREATMENTS
ELECTROLYSIS IS A TIME-TESTED METHOD that was invented more than 100 years ago to remove irritating, in-grown eyelash hairs. Most areas of the body can be treated with electrolysis, including the eyebrows, face, thighs, abdomen, breasts, and legs. Electrolysis faced new competition in the 1990s after laser hair removal was developed and promoted as a quicker and easier way to remove hair. The Food and Drug Administration declared, laser and similar devices can only claim to reduce hair growth, not permanently remove it. Electrolysis is the only treatment that is considered permanent hair removal.
How does
Electrolysis work?
A solid hair-thin metal probe slides into each hair follicle at the same angle and depth as the hair being treated. Proper insertion does not puncture the skin. Electricity is delivered to the follicle through the probe, which causes localized damage to the areas that generate hairs, either through the formation of caustic lye (galvanic method), overheating (thermolysis method), or both (blend method).
How long will it take to see permanent results?
The success depends on the skill of the electrologist, the type of hair being removed, the condition of the skin and the pain threshold of the client. Electrolysis, when properly performed, can be thorough at destroying the hair matrix cells, and leaving follicles incapable of growing hair. Most practitioners will advise that complete removal of facial hair takes between 1 and 4 years, with an average treatment length of 2 years.
About Gemma
Licensed Electrologist

Gemma Roche has been practicing electrolysis since 1992. She holds certification in Remedial Electrolysis, the highest level of electrolysis education in Europe, which allows her to work with doctors all over the world. 
Gemma's deep knowledge, experience and education have made her a proficient technician whose expertise is highly sought after. Her success in treating unwanted hair comes from the belief that, "whatever I do, I have to do right."
Gemma has treated clients who have sought electrolysis elsewhere for years with little success. She is committed to offering results-oriented treatment.
As Gemma puts it: "The satisfaction of knowing that I have raised my clients' self-esteem by eliminating unsightly hair is most important to me—and I haven't failed a client yet."